Data Governance consists of People, Process and technology that is required to create a consistent way of handling of organization's data in a proper way, across business enterprise. Data governance ensures that data entry by operations team or by the automated process meets the standards such as business rule, data definition, data integrity constrains in the data model. The data governor uses data quality motoring against production data to communicate errors in the data back to the operational team or technical support team for corrective action. There are many Data Governance software that employs modern tools and visualization techniques to manage the availability, usability, security, and storage of enterprise level data. Here are few software that you must consider reviewing while you build a data governance software: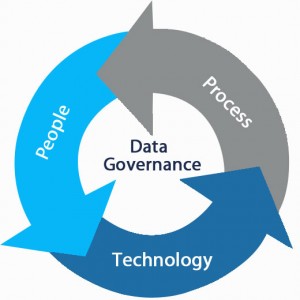 Image Source: http://www.dtiers.com/data-governance/
1. Collibra
Collibra Data Governance Center is an enterprise-wide data governance solution that puts people and processes first, automating data governance and management to quickly and securely deliver trusted data to the business users who need it. The Collibra Data Governance Center helps data citizens find and understand the right data, and ensures its quality and accessibility. For more details, check here.
2. a.k.a by Synercon
a.k.a.® software enables you to build the multiple solutions you need for information governance, such as describing your information assets, finding your information, organizing your information and solutions for managing your information lifecycle. It enables transformation of data from one state to another with minimal user intervention. With its data exchange tools, your data can be visualised in a browser or converted into machine readable formats ready to be deployed into your information systems. For more information, check here
3. Onesoft
Onesoft lets you organize your customers, relationships, people or projects simply and efficiently. The advantage of onesoft is simple integration, whether through Web services, database, or batch file. It lets you rapidly create of your own OneSoft in few minutes. The interface is intuitive, so most of the users can start to use it immediately without any implementation. For more information, check here.
There are many more software vendors who offer data governance solution but all of them would need customization to fit your needs and intergation to your enterprise data systems which compels an enterprise to build their own solution.